A heartbeat away from picture-postcard villages, ancient monuments, jaw-dropping panoramas, and miles of glorious, golden sands. Seville is the perfect destination for exploring the best of Andalucia and of foreign shores too! Experience the thrill of dancing horses, the taste of sherry, the site of stunning underground caves. In the surroundings of Seville, there is something for everyone.
The capital and largest city in Andalusia, Seville is a beautiful place to visit. An intriguing city with legends to match its sophisticated vibe. The city's extensive public transport links and competitive hire car outlets make holiday rentals in Seville a practical choice to use as a base to explore Andalusia.
Here is our choice of the best excursions from Seville that every savvy traveler will want on their bucket list when visiting Andalusia.
Jerez de la Frontera
Jerez de la Frontera is an unmissable day trip from Seville. It is home to Spain's annual MotoGP race but is probably best known for sherry and horses. Charm exudes from the uncrowded tree-lined streets of Jerez and one way to enjoy them is by doing the official 'Ruta de Tabancos'- a walking route to visit the old 'tabancos' peppered around the city. Tabancos are unique to Jerez and originate from the 17th century. With the feel of an old tavern, it's a cool way to enjoy a drink and a bite to eat as well as buy local wines as souvenirs.
For those who want to learn about sherry production throughout the ages and sample some of the best sherry straight from the cask, Jerez is the place to go. Sherry is a fortified wine made from white grapes and the local area of Jerez is the designation of origin. A visit would not be complete without visiting one of the famous wineries and sampling the unique wines on offer here. Booking a wine tour is a fun and informative excursion from Seville.
Jerez is also steeped in a history closely linked to the Andalusian horse. Home to the 'dancing horses' of the Royal Andalusian School of Equestrian Art, every week, the school stages a 90-minute show entitled 'How the Andalusian Horses Dance'. It's described as an equestrian ballet with music and 18th-century costumes. It's a rare opportunity to see some of the most remarkable displays of horsemanship, highlighting the connection between highly skilled riders and magnificently intelligent horses at this world-class academy.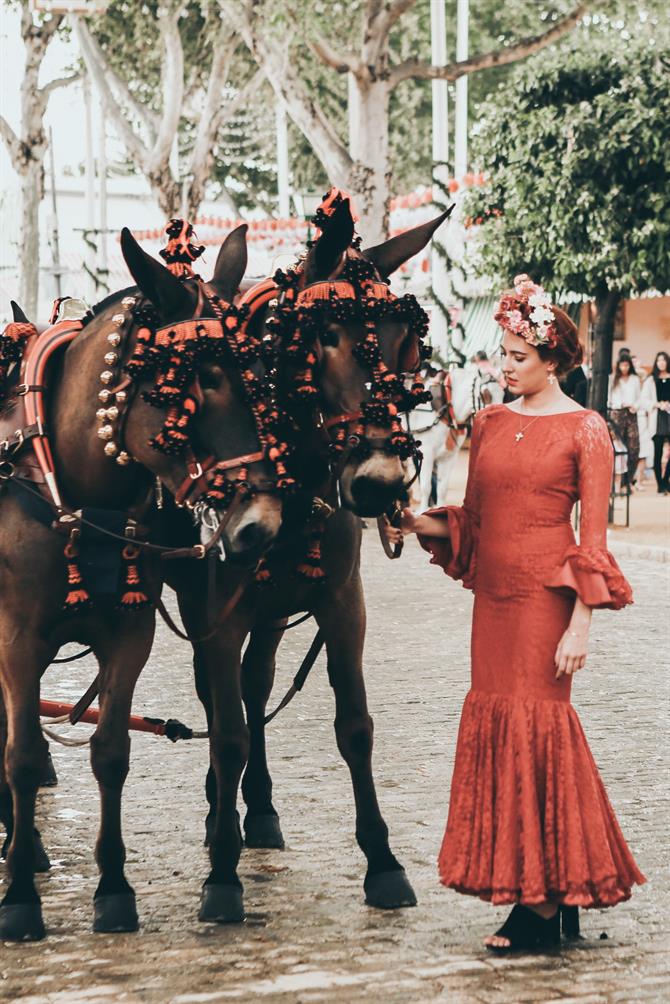 For an entertaining day trip from Seville, Jerez also holds what is known as the annual horse fair, but the name doesn't do the event justice. Horse and rider, horse-drawn carriages, traditional costumes, food, music, dance, and stalls selling local produce all merge together amongst flowers and lights that create a colorful and exciting spectacle. The fair is usually held in the first week of May and is not to be missed if you are staying anywhere within Andalusia at that time.
Not to be outdone in the horse stakes is Córdoba. It is the city in which the Royal Stables were built in 1570 by the decree of King Philip II. He aimed to breed a purebred Spanish horse, the beginnings of the Andalucian thoroughbreds we see now who are known for their elegance, strength, and intelligence. At one point Córdoba's Royal stables housed 2000 horses.
It's possible to visit this beautiful building, touring the stables and other buildings that make up the complex. The famous Spanish poet Lorca described the buildings as a 'cathedral to horses' and it certainly lives up to that grand description. Throughout the year there is also an equestrian show held in the riding arena.
Roman city of Itálica
Just outside of Seville lies the ancient Roman city of Itálica. This spectacular site dates back to 206BC and is located halfway between Seville and Alcalá del Río. This area was the birthplace of the emperors Trajan and Adriano, and the point of origin of many of the senators of the time.
Itálica played an important strategic role both economically and politically during the height of the Roman Empire. What's more exciting about this ancient site, is that it was featured in Game of Thrones. The series shot one of the most important scenes during last season - the reunion of the main characters.
Córdoba
Córdoba is probably most famous for its Mezquita completed in 987 AD it has stood as a mosque and a cathedral over the centuries. Today it is open to the public as a historical and architectural point of interest. Directly opposite the Mezquita is the river Guadalquivir whose banks are connected by a solid Roman bridge, renovated by the Moors in the 10th-century.
The Old Town is an area of flower-filled streets and patios and each year private patios are opened up to the public and compete in the 'Patios de Córdoba Festival' to win the title of best patio in Córdoba.
Córdoba is around 2 hours drive from Seville but trains are frequent between the two cities, and with a journey time as quick as 42 minutes, it is worth considering for an easy day trip from Seville.
Granada
Be transported back in time by visiting Granada. Discover what is considered by many historians as the 8th wonder of the world - the Alhambra, the best-preserved vestige of the ancient civilization of the Moors. It will take a day to explore the architectural genius behind this Alladin's cave of a palace/castle/fortress. Another day could easily be spent immersing yourself in the history of the Arab quarter of Granada, the Jewish quarter, or the Gypsy quarter, and not to be overlooked are the modern parts of Granada too.
It is said that Granada offers the best, most authentic Flamenco in Spain. The city prides itself on this reputation and keeps to the roots of this dance with passionate performances in atmospheric, renovated cave houses in the Sacromonte barrio of the city.
There are an endless amount of things you can do in Granada but be sure to take your time and absorb the charm of this city. After all, there is always another day to return to see more.
Ronda
One of the best day trips from Seville is a visit to Ronda. Aside from the capital itself and Granada, it is the most visited city in Andalusia. A lovely, ever-winding ascent by car, it takes two hours to reach the town, which seems as if it is perched on a precipice. Ronda has one of the most extraordinary locations of any city. The jaw-dropping views you get of the El Tajo gorge 328 feet below the Puente Nuevo bridge are astounding. The 'new bridge' was built in 1793 and stretches way above the boulder-strewn river below. It is the focal point of a visit to Ronda. For a little more than a couple of euros you can descend into the bowels of the bridge where you can explore its history. The inside cavern was used as a prison during the 19th-century and through the Spanish Civil War.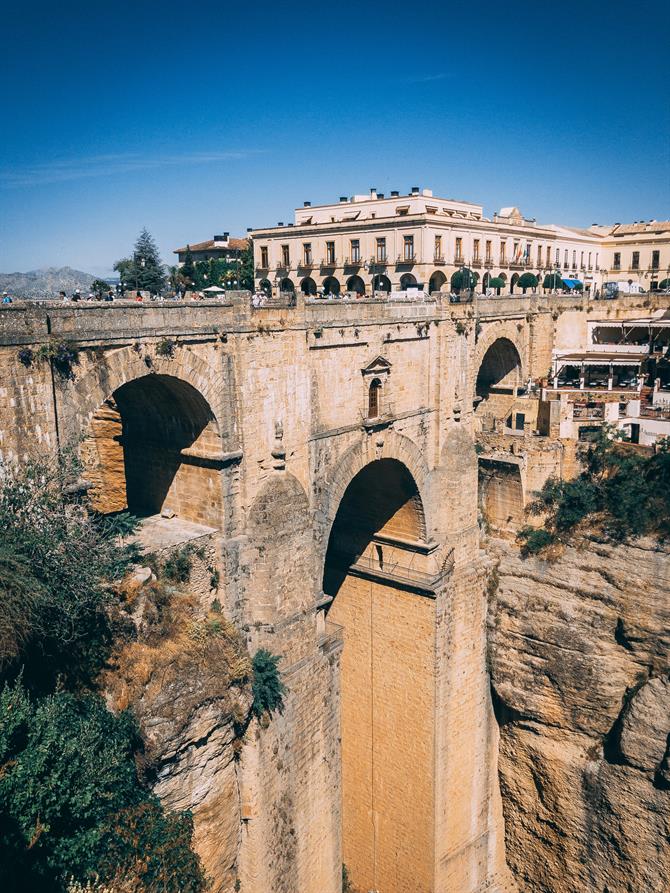 For the less faint-hearted it is possible to walk, albeit carefully, down into the gorge on either side of the bridge. It is just as impressive a view looking up.
There's a lot to fit into a day trip to Ronda from Seville. The oldest bullring in Spain has daily tours, there is a park area blooming with flowers and plazas, and some fantastic places to eat traditional food too.
Cadiz
Cádiz was founded by the Phoenicians around 1100 BCE and is considered to be one of Europe's oldest cities. It has a number of other 'claims to fame' too. The port is the one that Christopher Columbus set sail from on two of his famous voyages. One of its two beaches, Playa de la Caleta and the 16th-century fortress of Castillo de Santa substituted for Havana in the Bond movie 'Die Another Day.'
Cádiz city has been described as shabby-chic and certainly not as sophisticated as Seville but don't let that put you off. It is a lively, spirited city where locals are loud and friendly and known throughout Spain for their good humor.
If you like carnival you don't have to go to Rio to experience one of the biggest and most colorful extravaganzas. Cádiz holds a grand street parade of fancy dress and fiesta, where people let their hair down and party! Usually held in late February or early March.
Cádiz is an easy day trip from Seville by train or car. If you want to experience the buzz of Cádiz, spend time taking in its unique atmosphere as the sun goes down, perhaps sampling some of the freshest fish in the old fishing district of La Viña, near La Caleta Beach.
The Atlantic beaches
The beaches along the Atlantic coastline are natural and wild. Relatively untouched by mass tourism, they are made up of gorgeous, fine white sand, giant dunes, and chiringuitos (beach bars) serving the most delicious Andalucian food and drink.
This southernmost tip of Spain shares the same coastline as the Algarve in Portugal. It is a mecca for kite surfers and adventurers who come from around the world to 'fly' above the waves. It's an awesome, colorful free show for those who just watch from the comfort of their beach towel or a well-placed chiringuito. For those who want to try it for themselves, there are lessons - complete beginners or the more advanced can come to perfect their sport. Valdevaqueros beach is a great place to hang out if this is your scene and once you've had an adrenaline-filled day on the water, retire to one of the chiringuitos and watch the sunset.
Tarifa
The whole of this coastline is worth exploring and the top places to visit from Seville have to include Tarifa. It is a laid-back town with a hippy vibe and well-worth visiting for a stroll around and a tapa. It would be the perfect place to start your hop along the coast, including a visit to PLaya Valdevaqueros and Bolonia on the same day.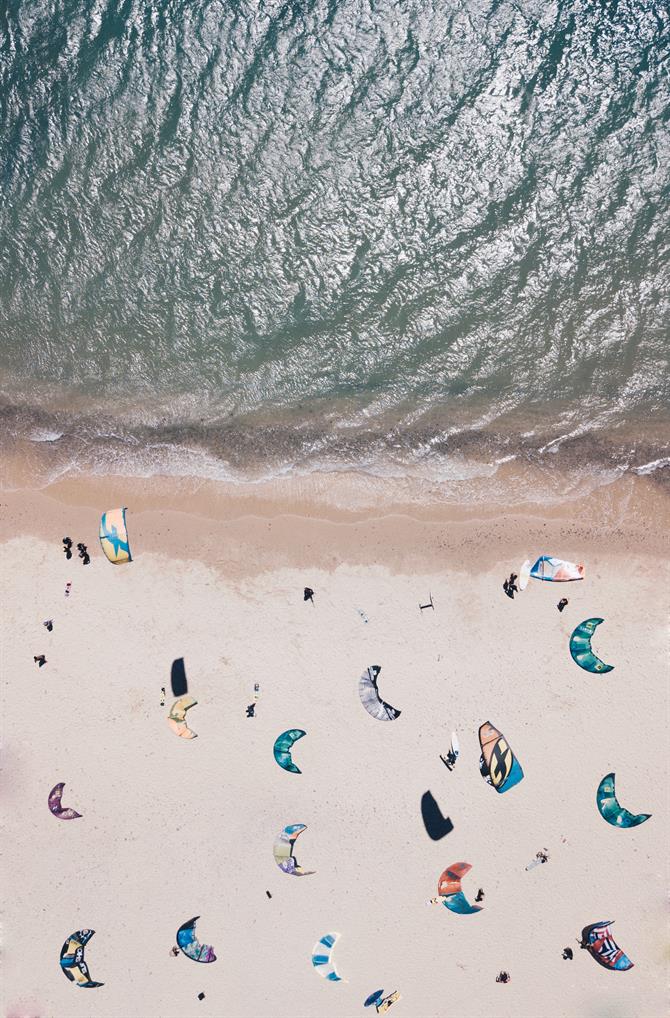 At Bolonia Beach, there is a giant 30-meter high, 200-meter wide sand dune for the energetic to climb, along with a Roman ruin (Baelo Claudia) to explore. The beach and waters are simply stunning here and are one of Spain's best-kept secrets. This area is a memorable day trip outside Seville if you are looking to escape the crowds and chill along the Atlantic Ocean with Morocco on the horizon.
Morocco
That brings us to the adventure of adventures! Seville is an ideal starting point to travel to a different continent! Explore exotic Morocco as a day trip from Seville and be back in time for a nightcap on Spanish soil.
An excursion to Morocco from Seville is certainly something you'll never forget. It's possible to organize the trip yourself but if it is your first time across the 13 kilometer stretch of water then it is highly recommended to go with a tour company who will look after you from pick-up to drop-off. There are many to choose from within Seville and they vary in what they provide, so do your homework. It's a long, exciting day filled with medinas, souks, spices, camels, and other things Moroccan. Who knew your holiday in Seville could lead to Africa!? Plan the short ferry trip through Direct Ferries with ease.
Gibraltar
And that's not the end of 'traveling abroad' from Seville. Have yourself a taste of Britain with fish and chips, pubs, and UK high-street shopping. A mere 2 hours 15 minutes by car is Gibraltar, the British outpost where red telephone boxes still dot the streets. There's a fair bit of history here but also some wildlife too. The Rock is now the only place left in Europe with a population of wild monkeys. Travel up the cable car to see their little community of around 300 and at the same time be amazed at the views of the coast of Spain and Africa. Gibraltar is an interesting mix of cultures and well worth a visit. Oh, and don't forget your passport - you might not be leaving terra firma but there is a border control - after all, you are traveling abroad!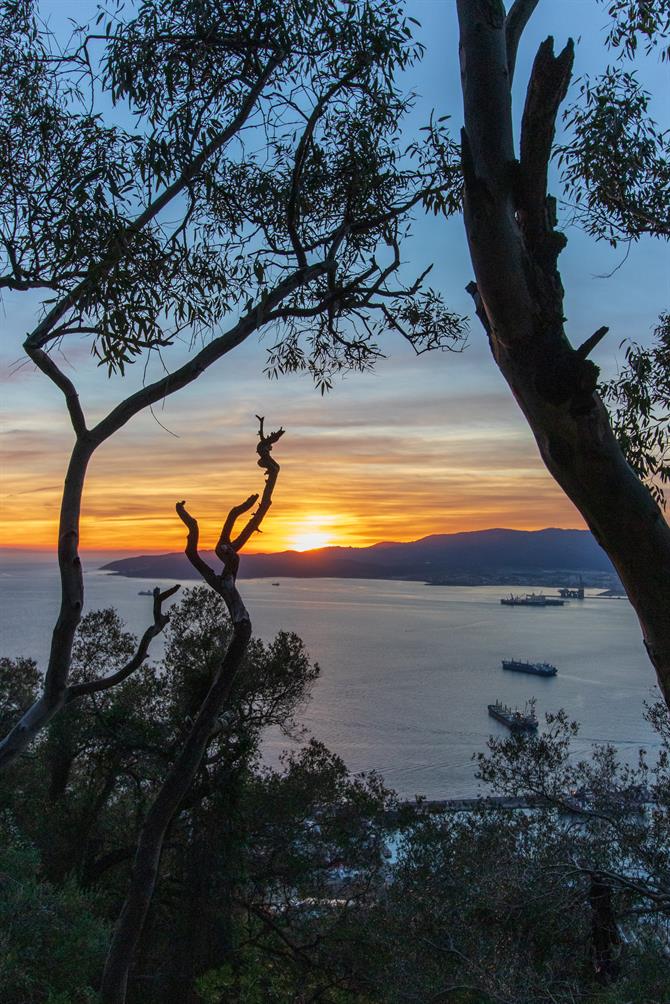 Doñana National Park
For a wild excursion from Seville, escape the city for the day and travel over to the Doñana National Park. An hour away by car it's a day trip that will immerse you in pine forests, wetlands, sand dunes, and lagoons. Native to the area are the Iberian lynx and the Spanish Imperial eagle as well as the beautiful pink flamingos. 4x4 guided tours are available to get the most out of your visit to this wilderness on the Atlantic coast but cycling and hiking are common activities in the area too.
Pueblos Blancos
The Pueblos Blancos - White-washed villages of Andalucia are picturesque pockets of life in Spain that are so different from what you see in the modern Iberian towns and cities. Tours are available from Seville which take you to a selection of the best ones but it is just as easy to choose your particular favorites and make your own way there. Here are some of our favorites.
Aracena is a Pueblo Blanco of Seville's neighboring province, Huelva. A lovely hour's drive away, the town is surrounded by the beautiful scenery of the Sierra de Aracena, of winding country roads edged by dry stone walls and fields of sheep, cows, and the famous black Ibérico pig which greedily graze on acorns in wooded pastures of cork oaks. It has a very unique feel. There are some truly memorable walks, cycling and picnics to be had in this area but the town of Aracena should not be overlooked. A quaint place with a medieval fort and Jamon museum and some interesting arts and crafts shops selling, amongst other things, hand-crafted articles made out of the local cork trees.
Underneath Aracena lies a network of the most spectacular caves caused by thousands of years of water erosion. Giant stalactites and stalagmites form natural sculptures, glistening with minerals in the atmospherically lit caves. Pools of subterranean water lie on your journey through the labyrinth. It will take about 50 minutes to tour the caves and you can pay a few euros for headphones which give you a description in your language of the beautiful formations you see. Aracena is a gem of a day trip from Seville.
Arcos de la Frontera in the province of Cadiz is another gorgeous Pueblo Blanco, famous for its arcs, ancient Roman and Moor architecture. It stands high above the surrounding natural landscape and is a popular pueblo for tourists. Shops selling bright Andalusian ceramics are littered throughout the village, there is also a castle to explore and beautiful miradors to enjoy.
Grazalema is a protected village and is popular as a starting point for hikers who want to enjoy the beautiful countryside. The village has won the title of Spain's prettiest village over the years. It's a lovely place to chill and appreciate the charm of the Sierra de Grazalema in which it sits. Get here via a picturesque drive taking around 2 hours - the ideal relaxing day trip from Seville.
The Takeaway...
So if you're looking for the best day trips from Seville, let yourself be transported to unique locations influenced by the Phoenicians, Romans, and Arabs and live it up on your very own Andalucian adventures!
Suggested reading for you